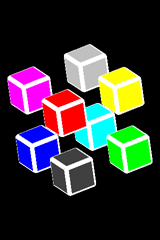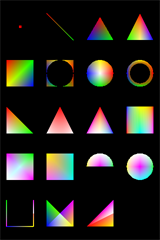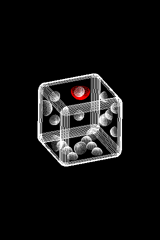 Manual
Samples
About Tiny3D
This software is a small 3D viewer and editor use OpenGL ES 1.1. The following functions are provided.

3D Viewer: operated with the touch panel.
3D Editor: prepares 19 kinds of basic figures.
Macro: positional/color setting are memorized.
Manage object data :
Copy, and move data. FTP upload/download, and HTTP download Tiny3D object file.
FTP upload DXF fomat file(ver 1.3.0 or later). DXF file transmission function in mail attached(ver 1.4.0 or later).

3D Viewer can use auto rotation, alpha blending, and Z buffer.
This software is not use sound function. Then you can play background music when you use this software.3D editor and viewer software.
history
ver 3.6
Export STL, DXF, Tiny3D object file to iTunes file sharing folder.
Import DXF, Tiny3D object file from iTunes file sharing folder.
ver 3.5
It corresponded to iOS 6.
ver 3.4
It corresponded to iPad(3rd generation).
ver 3.2
It corresponded to iPad.
ver 3.1
Add three elements for making object.
ver 3.0.1
Bug fix version.
ver 3.0
The data preservation form was changed to Core Data. The data form is converted when there is data of the previous version.
Because preservation was surely done even if the data file was made huge, the manual preservation function was abolished.
The switch to 3D display when there was no data change became more high-speed. Rewriting 3D display was sped up further.
The setting of the standard mail application program was used to transmit the DXF file. Therefore, the transmission using SSL became possible.
The method of the selection for the operation in the copy and the macro link was changed.
For instance, it becomes an operation of first selecting the object to select the part, and selecting the part in the object next.
The guide was changed.
ver 2.0.1
Bug fix
ver 2.0
Add DXF import tool. It convert 3DFACE, LINE and POINT object(entities) to Tiny3D elements. Add AutoCAD Color Index(ACI) select palette for input color infomation.
ver 1.6.0
Add lighting mode. If the light is turned on, color setting is not use to draw elements excluding point, line and line strip element. The first lighting mode is called front light. This light is shone on from the side at which you are looking. Another lighting mode is called indirect lighting. It shines on by the indirect lighting in the space. For these two lighting mode, the switch is added in element editor. This switch changes the direction of the surface of the element.
Add loop switch for line strip, triangle strip, triangle fan element.
Add macro linkage and delete macro linkage tool.
ver 1.5.0
Add three elements (basic figure). For these three elements, new element detail editor added.
ver 1.4.0
The DXF file attached email function is added. It function can use POP before SMTP and SMTP-AUTH (PLAIN and LOGIN). Maximum FPS setting added.
ver 1.3.0
ver 1.2.0
ver 1.1.0

ver 1.0.0